For questions, please contact the events manager: events at events.stcwdc.org
STC-PMC CONDUIT 2019: The Mid-Atlantic Tech Comm Conference
6 Apr 2019 @ 9:00 am

-

5:00 pm

EDT

$6.00 - $175.00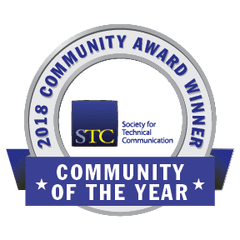 STC-PMC earned the 2018 STC Community of the Year Award! 

See what we are all about at CONDUIT, our premier event! Register below!
CONDUIT 2019 – Connecting Minds
Join us on Saturday, April 6th for our annual full-day conference featuring multiple sessions following a keynote presentation by Neil Perlin. 
This year, we've moved to a new venue–the fabulous Franklin Institute! 
The conference will feature a variety of topics including content strategy, user experience, technical writing, and much more. There will be plenty of opportunities to connect and network with your peers.
A continental breakfast, lunch, and fabulous door prizes will be provided!
The location is convenient to main highways and public transportation.
(Directions and parking can be found on the Franklin Institute website. Driving to the event? Choose the reduced daily rate parking admission ticket in the registration. )
Workshops
We are also offering several half-day workshops on Friday, April 5, 2019.  
Conference Presentations
We have a fantastic line up of speakers this year. For more information about each of these presentations, view our Conference Presenters page.
The Interplay of UX and Technical Communication – Deborah Sauer and Sam Park.


Improve Your Publications And Career Prospects With Technical Editing Skills – Brett Peruzzi


Virtual Reality: Immersive Experiences with Real-World Applications – Jill Knight



Developing Workflow-Based Help – Cindy Pao


A Guide to Designing and Launching Amazing Learning Experiences – Linda Daniels and Nick Floro


Will AI Change Tech Comm? – Nicky Bleiel


Blockchain: The Challenges of Communicating Disruptive Technology – Aiessa Moyna


Virtual Team Succes – Todd DeLuca


Adding value as a technical communicator – Ed Marsh


Analytics Can Change Your World – David Payne


#PowerOfStory – The cultural program that got me clicks – Viqui Dill


How to Make the Magic Happen in Your Deliverables:  A Demonstration of XML's Impact on Your Content Delivery Processes – Sue Wear


Back Then. Here And Now. Around the Corner. Sharing The Content Lifecycle – Bernard Aschwanden


Proactive Listening: How to Cut Through the Noise – Gary Sternberg


Working and Writing Across the Generations – Steven Jong


Negotiation Skills: The Missing Ingredient to Content Career Success – Jack Molisani
Space is limited!
Registration ends on March 29, 2019 at 12:00 PM! Register today! 
Thank you to our conference sponsors!
A special thanks to Adobe for hosting the conference.